HEMP OIL
FOR DOGS AND CATS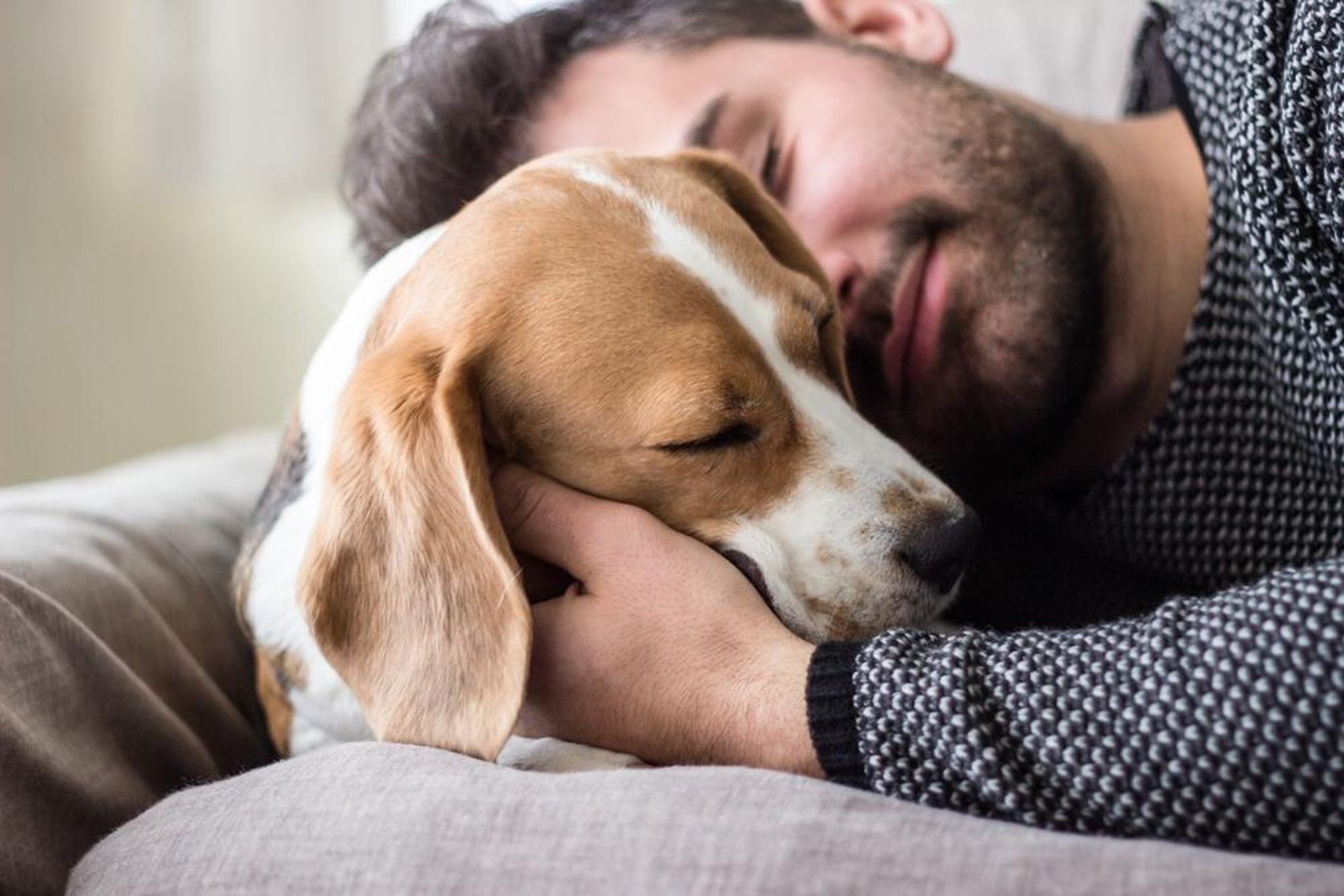 Pure cold pressed hemp oil for dogs and cats
A fast acting organic calming supplement with added health benefits.
Loaded with Vitamins & Omega 3,6,9 providing a natural calming support for your dog or cat.
Suitable for all breeds and age.
All Natural, CBD and THC free.
Shop the post here:
Only £19.99 with Free Shipping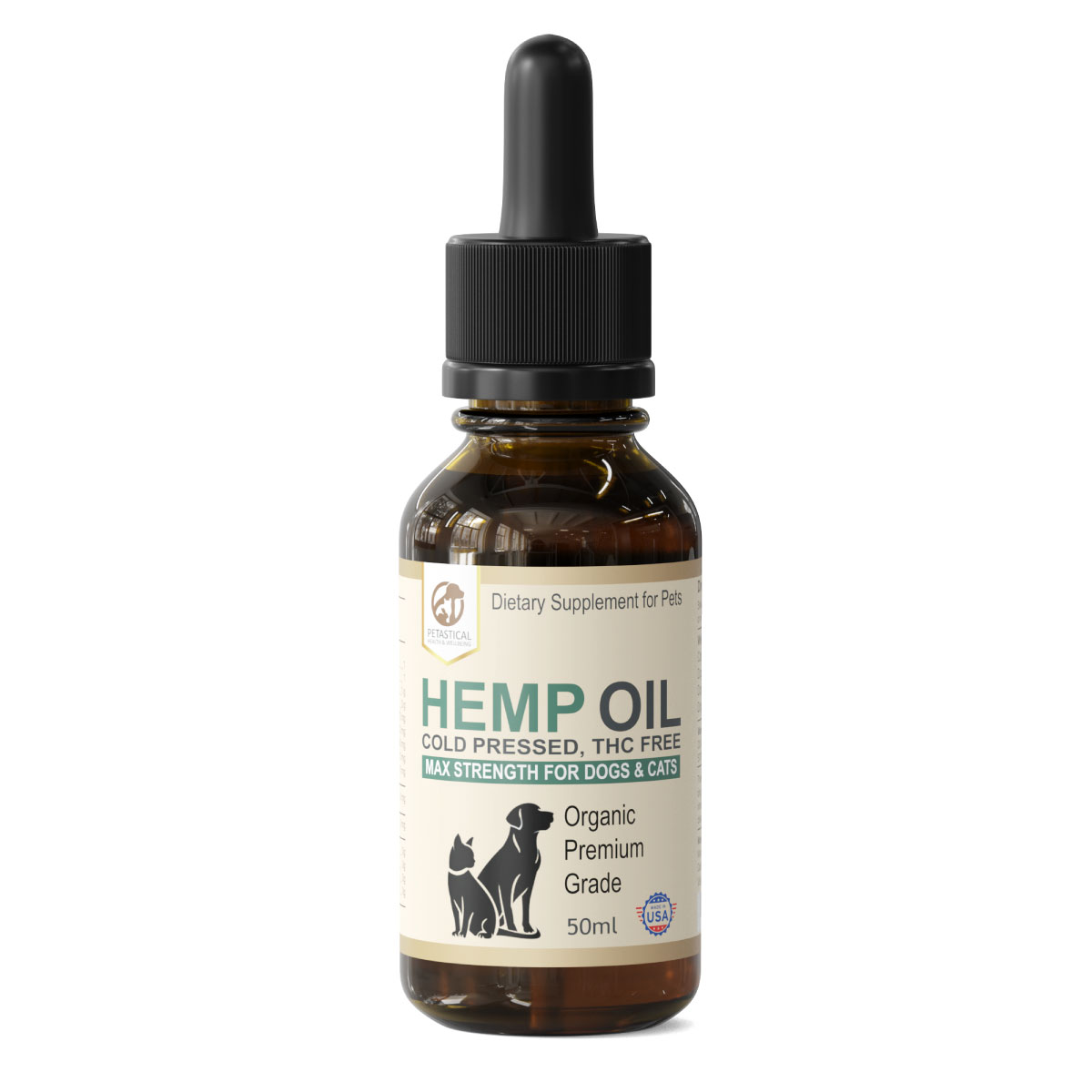 WHAT'S THE DIFFERENCE BETWEEN HEMP OIL AND CBD OIL?
The main difference between hemp oil and CBD oil, is that hemp oil has little to no CBD content.
Hemp seed oil is extracted from seeds of the hemp plant. The extraction occurs through cold-pressing, similar to the way that olives are cold-pressed to make olive oil. It is high in antioxidants, vitamins and omega rich.
CBD oil is made by extracting the compound CBD from the leaves, flowers and stalks of a hemp plant.
There are currently no CBD products in the UK that have been authorised for use in animals as an official medicine. CBD oil has not been approved by the Veterinary Medicines Directorate or Food Standards Agency. If you are considering trying CBD oil for your dog, cat or pets, speak to a vet first.
Petastical Hemp Oil does not contain any CBD.
So in summary, CBD oil is a very different substance from hemp oil, even though it originates from the same plant. Beware of confusing marketing pretending that they're the same. If a product contains CBD, it should tell you exactly how much on the label and the ingredients list, and be able to provide lab reports to prove it.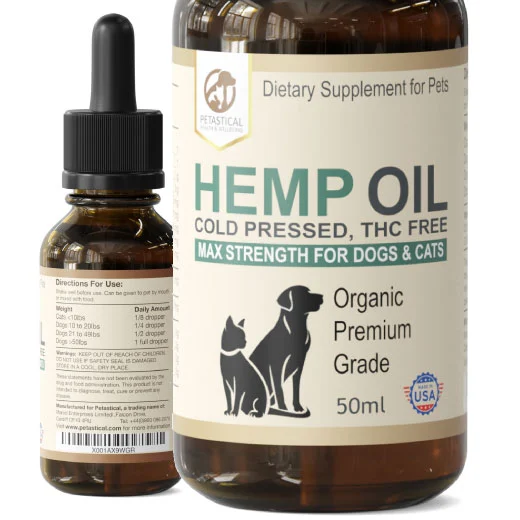 IS HEMP THE SAME AS CANNABIS

(MARIJUANA)

AND DOES IT CONTAIN THC?
Although the hemp and the cannabis (marijuana) plant belong to the same plant family, Cannabis sativa L, they are two different plants and have different compositions. The most notable difference is the amount of tetrahydrocannabinol (THC) present in each plant.
THC is the psychoactive portion of the cannabis plant. It's the chemical that makes you feel "high".
While the cannabis plant has high THC levels (up to 10%), the hemp plant's THC concentration does not exceed 0.3%, close to zero. Thus, hemp oil does not create a "high" and is used for medicinal purposes.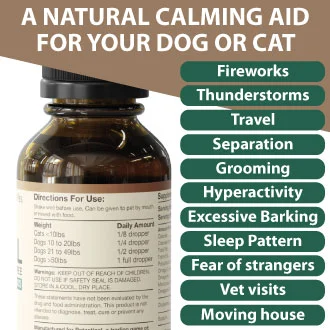 WHAT ARE THE BENEFITS OF HEMP OIL FOR DOGS AND CATS?
There are so many benefits of hemp oil for dogs and cats. If your pet suffers from painful joints, separation anxiety, itchy skin, arthritis, diarrhea, or any inflammatory issues hemp oil can help.
Hemp seed oil is a great source for omega-3, omega 6, and other essential fatty acids. Hemp seed oil is rich with fiber, protein, minerals, and vitamins necessary for overall pet's health. It is often referred to as a superfood.
Hemp oil is excellent for relieving stress and anxiety in situations such as thunder storms, fireworks or loud parties, travelling, grooming, hyperactivity, excessive barking, sleep problems, fear of strangers, vet visits, moving house & more.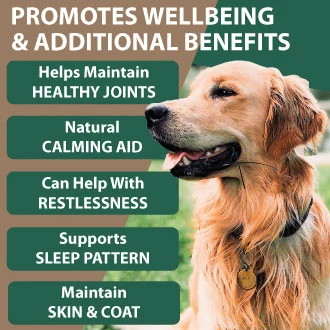 THERE ARE ADDITIONAL BENEFITS OF HEMP OIL FOR PETS
Hemp oil is rich in Omega 3, 6 and 9 and in addition to helping with stress, tension and anxiety, it can also aid sleep, stabilise mood, improve skin and coat, support joint movement.
THE PERFECT COMBINATION TO SUPPORT HIP & JOINTS
Whether your pet suffers with conditions such as arthritis or if they are in their later years and are not as mobile as they once were, Petastical Hemp Oil can help ease the pain and loosen up those stiff joints getting your pet back on their feet again. The perfect combination to support your pets joints is to use Petastical Hemp Oil with either our Petastical Joint Tablets or Petastical Joint Powder.
AN IDEAL COMBINATION TO IMPROVE SKIN & COAT
When Petastical Hemp Oil and Petastical Pure Scottish Salmon Oil are used together it can help make your pets coat strong and healthy. That's because the combination provides super rich Omega-3 fatty acids and the vitamins to make their hair soft and shiny!
The added benefit is improving joint health, energy, and cognitive function.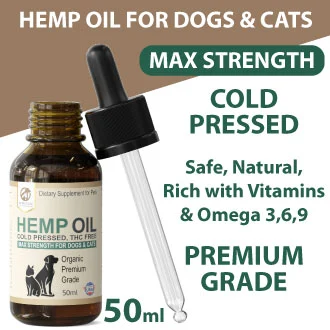 HOW TO USE HEMP OIL FOR DOGS AND CATS?
Petastical Hemp Oil for Dogs and Cats comes with a dropper that can be used to give a precise dose to your pet. You can use the dropper to put the oil under their tongue or against their cheek, which is considered the gold standard for accurate, effective dosing. If your dog is uncomfortable taking the hemp oil in this manner, it can be drizzled on a treat or your dog's food.
You can also purchase soft chews containing hemp oil as an alternative to using the liquid dropper . The flavouring in the chewable treats help mask the taste of the hemp oil. Petastical Hemp Calms for dogs is a chew that is easier to give on-the-go than a dropper full of hemp oil. Find out more about our Petastical Hemp Calm chews by clicking the button below;
The advantage of Hemp Oil over Chews is the time it takes to absorb and take affect. Hemp Oil is fast absorbing over tablets and chews.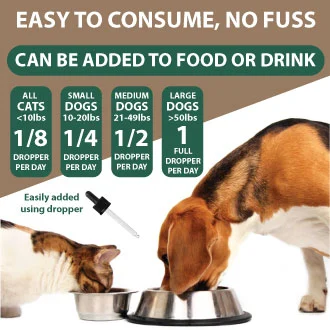 HOW MUCH HEMP OIL DO I GIVE TO MY DOG OR CAT?
Please see product image for full directions.
Shake well before use.
It can be given to your pet by mouth or mixed with food.
Cats <10lb = 1/8 dropper per day
Dogs 10-20lbs = 1/4 dropper per day
Dogs 21-49lbs = 1/2 dropper per day
Dogs >50lb = 1 full dropper per day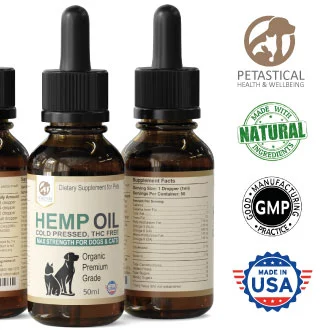 PETASTICAL QUALITY GUARANTEE
Petastical supplements are homegrown in a GMP certified facility which adhere to the strictest quality control and FDA guidelines.
100% Satisfaction Guarantee.
If you're not happy we're not happy.
If we can't make it right and you are not satisfied for any reason then we will gladly and promptly refund your purchase price on return of your product. We promise – For the Love of Pets the Petastical way!
Shop the post here:
Only £19.99 with Free Shipping