DAILY MULTI VITAMINS AND MINERALS FOR DOGS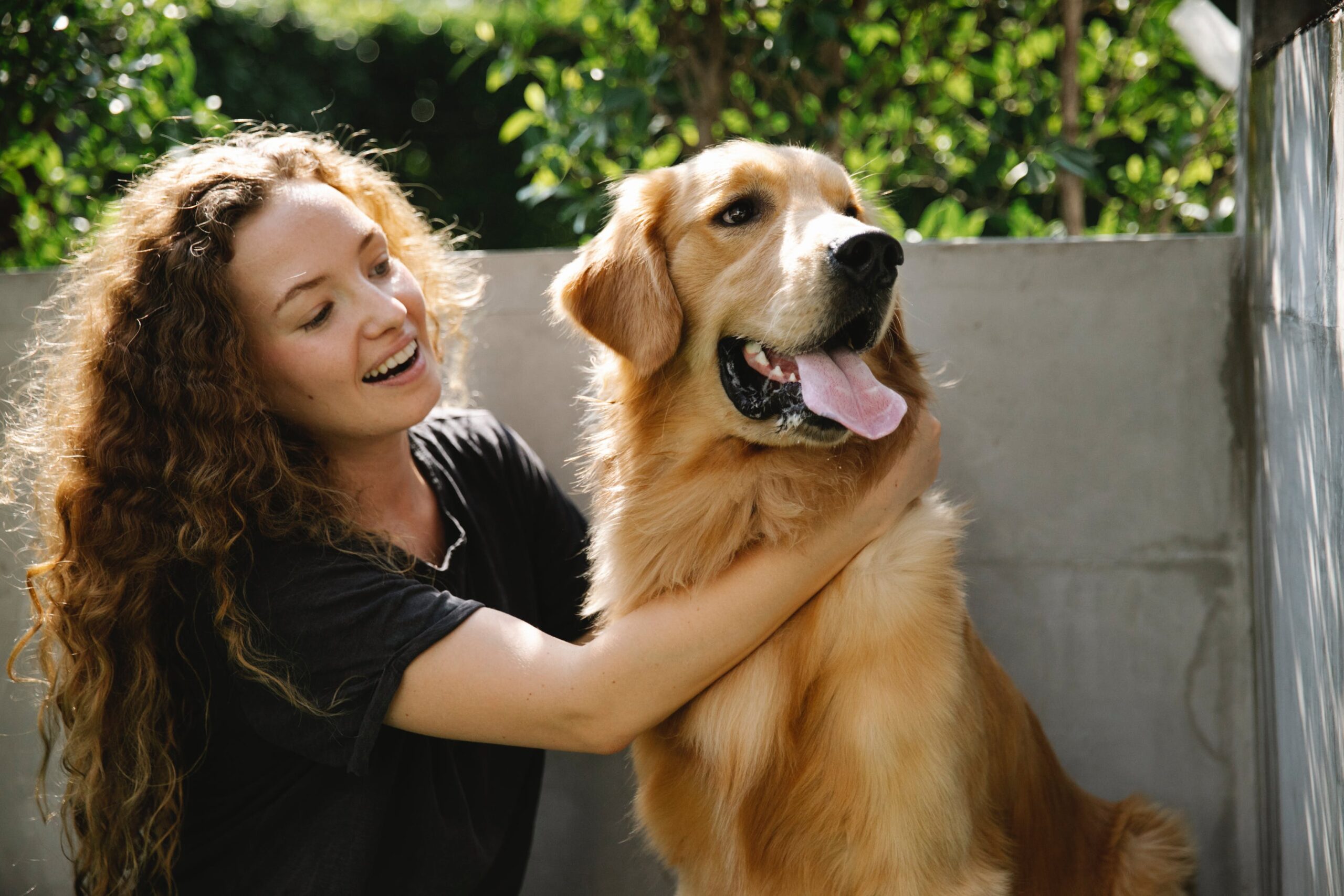 A v
eterinarian formulated
multi vitamin supplement suitable for all breeds of dogs.
All Natural Wheat Free Chews.
Formulated specifically for adult dogs to provide a full spectrum of essential vitamins and minerals.
Help your dog live more healthy days.
Available now from these online retailers
Buy Direct from Petastical:
Only £21.99 with Free Shipping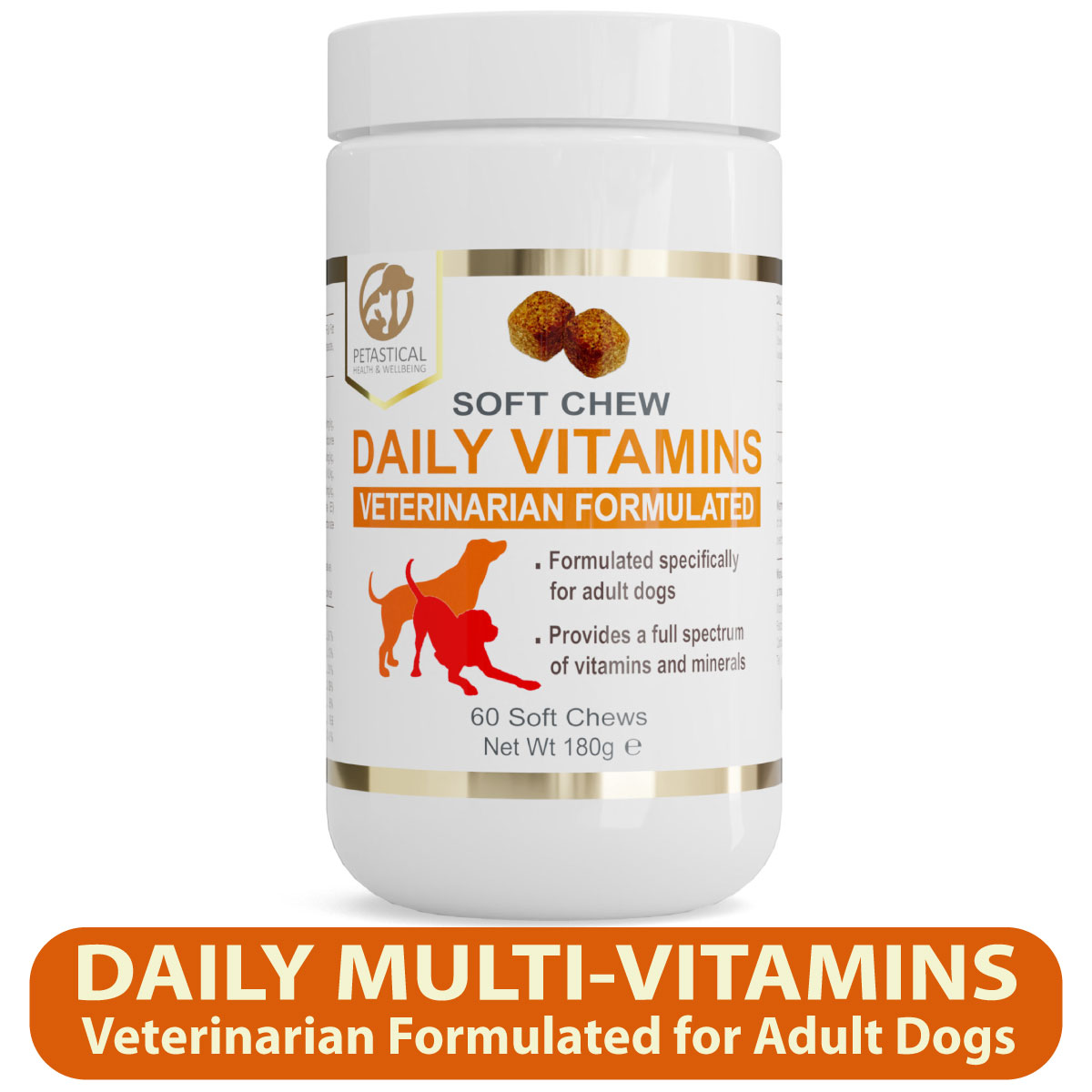 DO DOGS NEED VITAMINS?
All dogs are different, and some need a little more help than others when it comes to making sure they have enough vitamins in their diet.
Dogs require vitamins as part of their diet just as we do. Vitamins keep your pet's skin and coat healthy, strengthen bones and teeth, and give them the overall energy that they need to function.
Petastical Veterinarian Formulated Vitamin chews are a high quality daily multivitamin for dogs to help supply the optimal level of nutrients that may be missing from your dog's daily diet.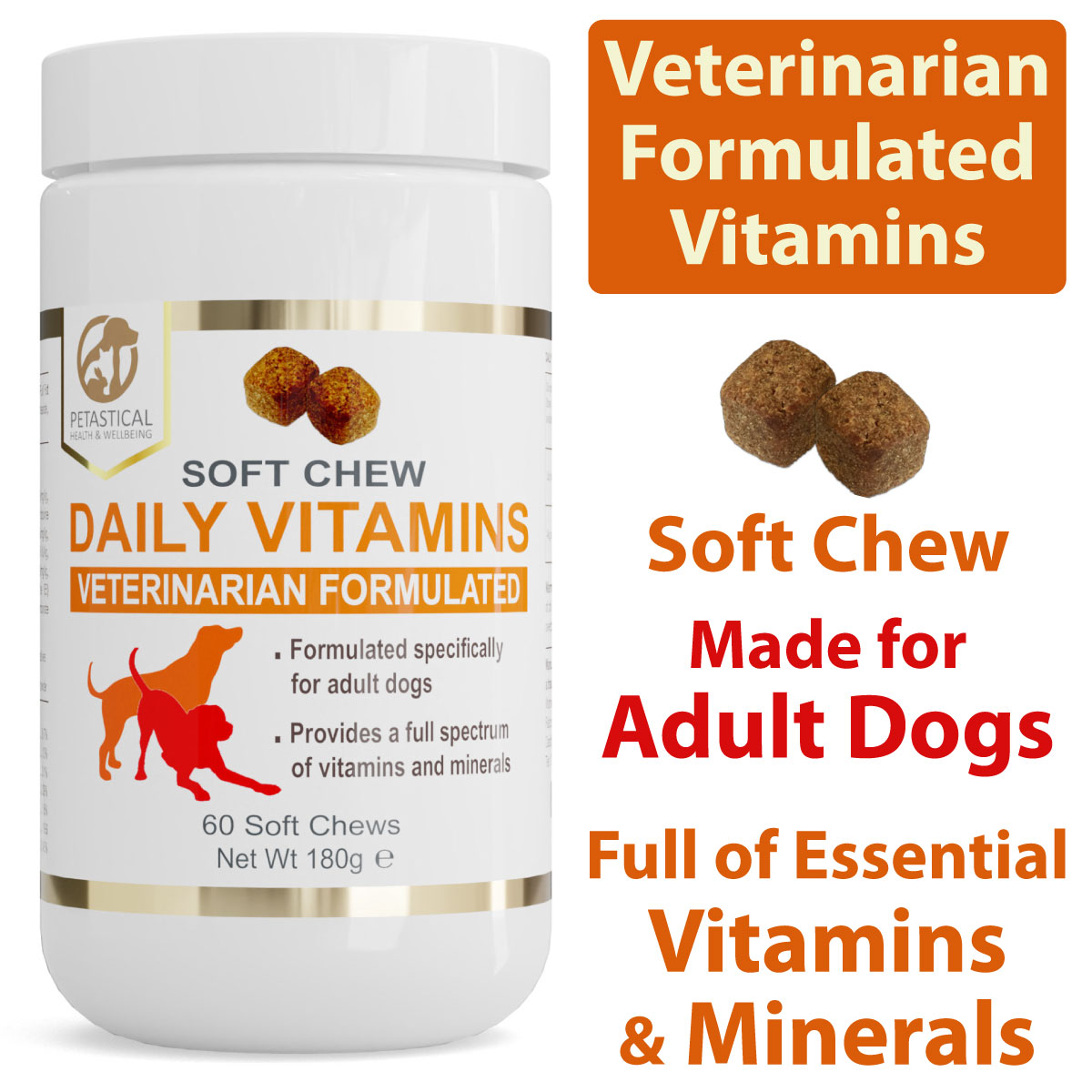 VETERINARIAN FORMULATED
Petastical Daily Vitamins is vet formulated and recommended specifically for adult dogs providing a full spectrum of essential vitamins and minerals to ensure your canine companion receives the nutrients they need.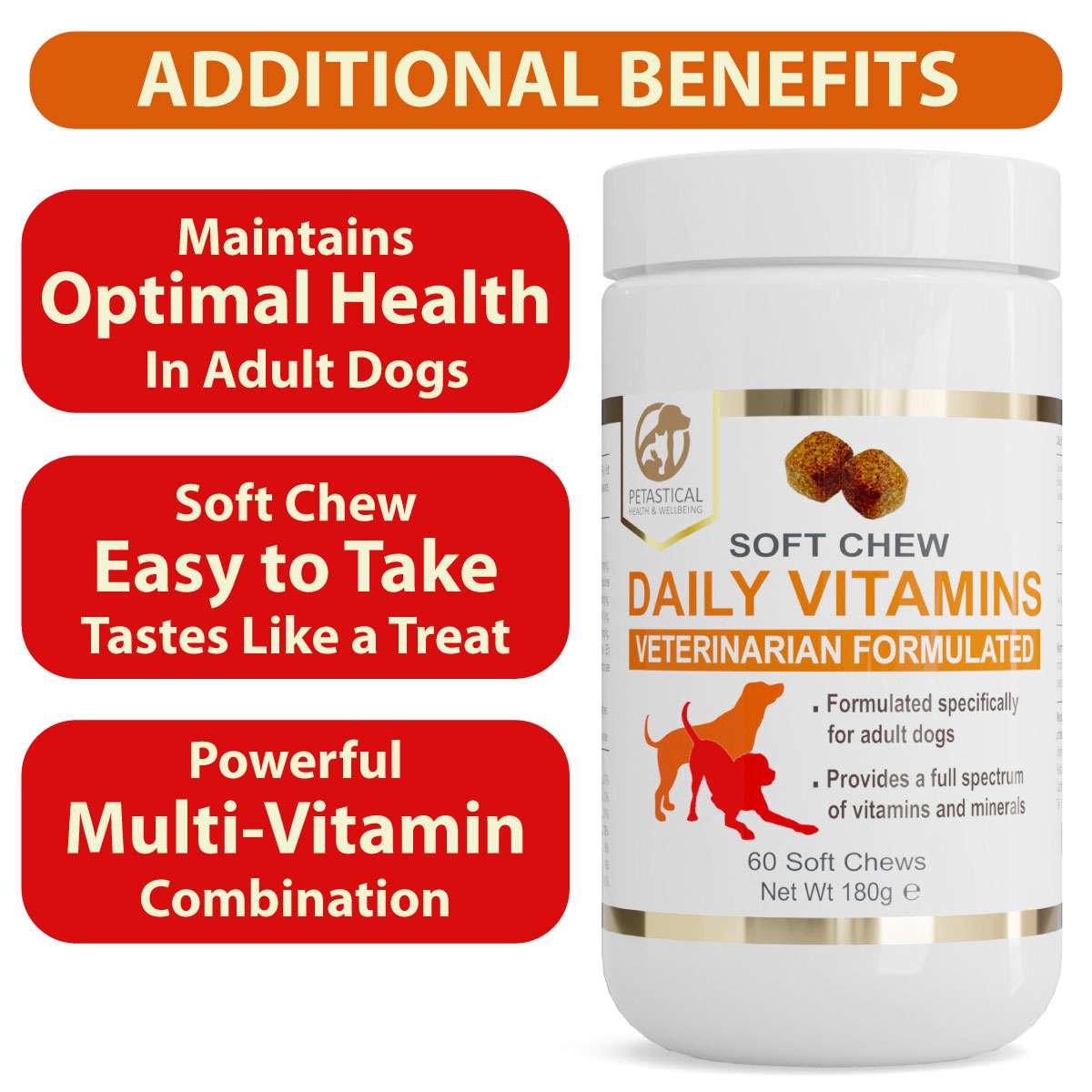 PROVIDE YOUR DOG A BOOST IN ENERGY
Multivitamin and minerals can help with support Energy Levels, Fatigue, General Health and Wellbeing, Heart, Brain, Skin, Eyes, Organs.
A powerful multi-vitamin combination that maintains optimal health in adult dogs over 12 months of age.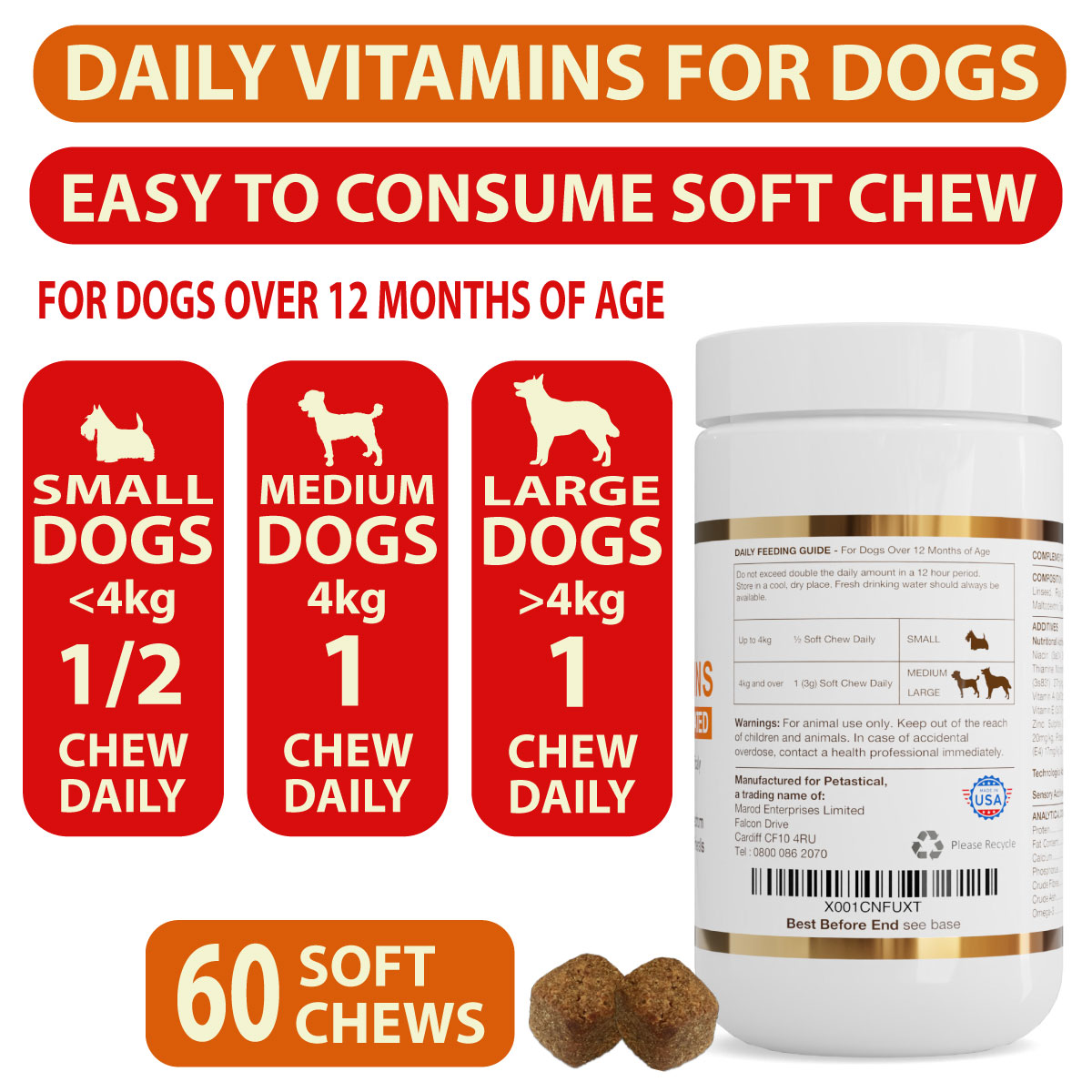 EASY TO TAKE SOFT CHEWS
Petastical Daily Vitamins for Dogs come in a tub of 60 soft chews that taste like a treat.
Formulated for adult dogs one year and older.
Directions for use:
Small Dogs <4kg, 1/2 Chew Daily
Medium Dogs >4kg, 1 Chew Daily
Large Dogs > 4kg, 1 Chew Daily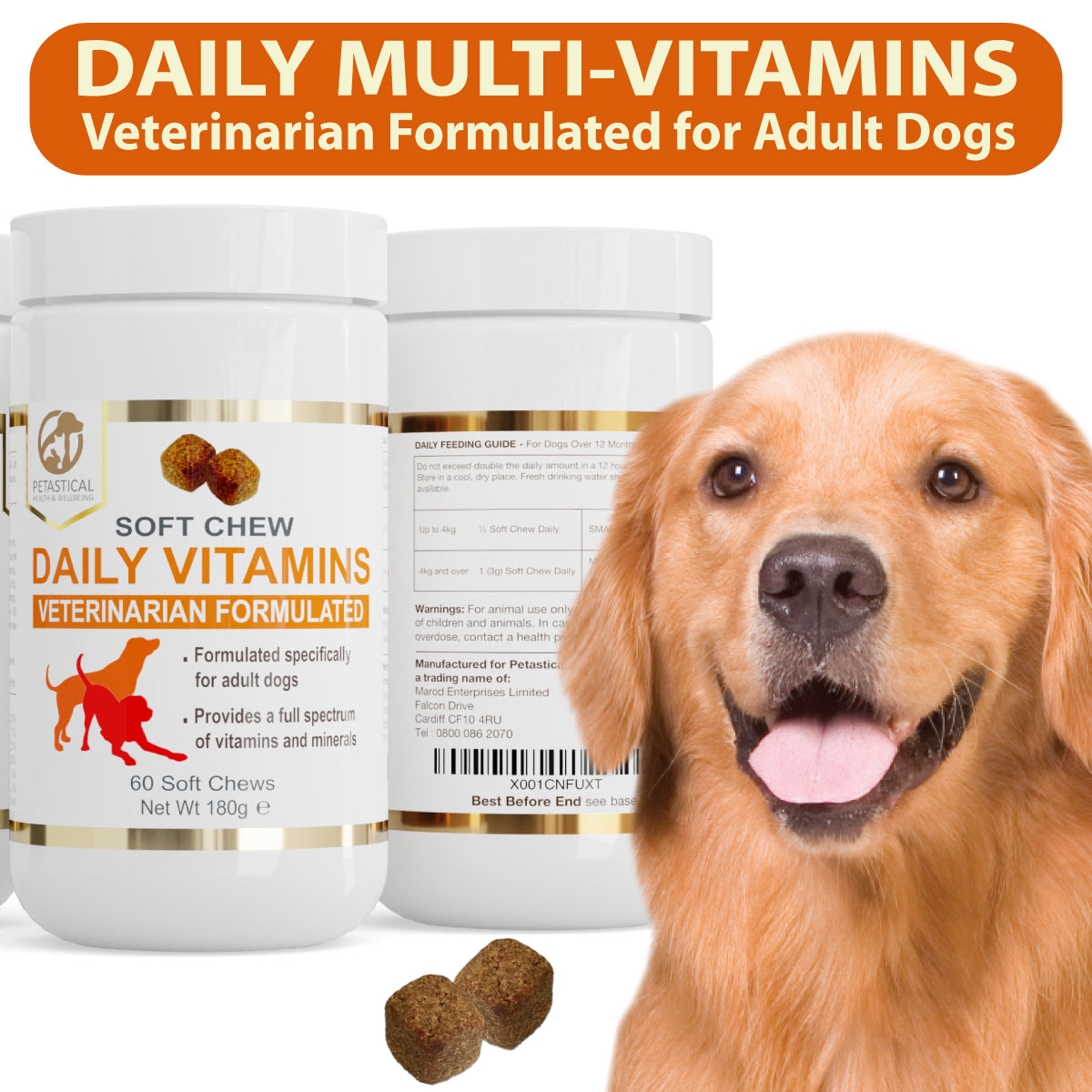 A WHEAT FREE ALL-IN-ONE DAILY HEALTH SUPPLEMENT FOR YOUR DOG
Ingredients:
Glycerine, Brewers Yeast, Potato Flake, Full Fat Linseed, Rape Seed Oil, Parsley Leaf, Magnesium Stearate, Maltodextrin, Tapioca, Vegetable Oil
Nutritional Information:
Niacin (3a314) 3333mg/kg,
Riboflavin Vitamin B2 333mg/kg,
Thiamine Mononitrate Vitamin B1 (3a821) 273mg/kg,
Pyridoxine (3s831) 27mg/kg,
Cyanocobalamin Vitamin B12 0.066mg/kg,
Vitamin A (3a672b) 150000 IU/kg,
Vitamin D3 (E671) 33333 IU/kg,
Vitamin E (3a700) 666 IU/kg,
Ferrous Sulphate Iron (E1) 2333mg/kg,
Zinc Sulphate (3b604) 500mg/kg,
Manganese Sulphate (E5) 20mg/kg,
Potassium Iodide (3b201) 23mg/kg,
Copper Carbonate (E4) 17mg/kg,
DL-methionine (3c301) 1267mg/kg.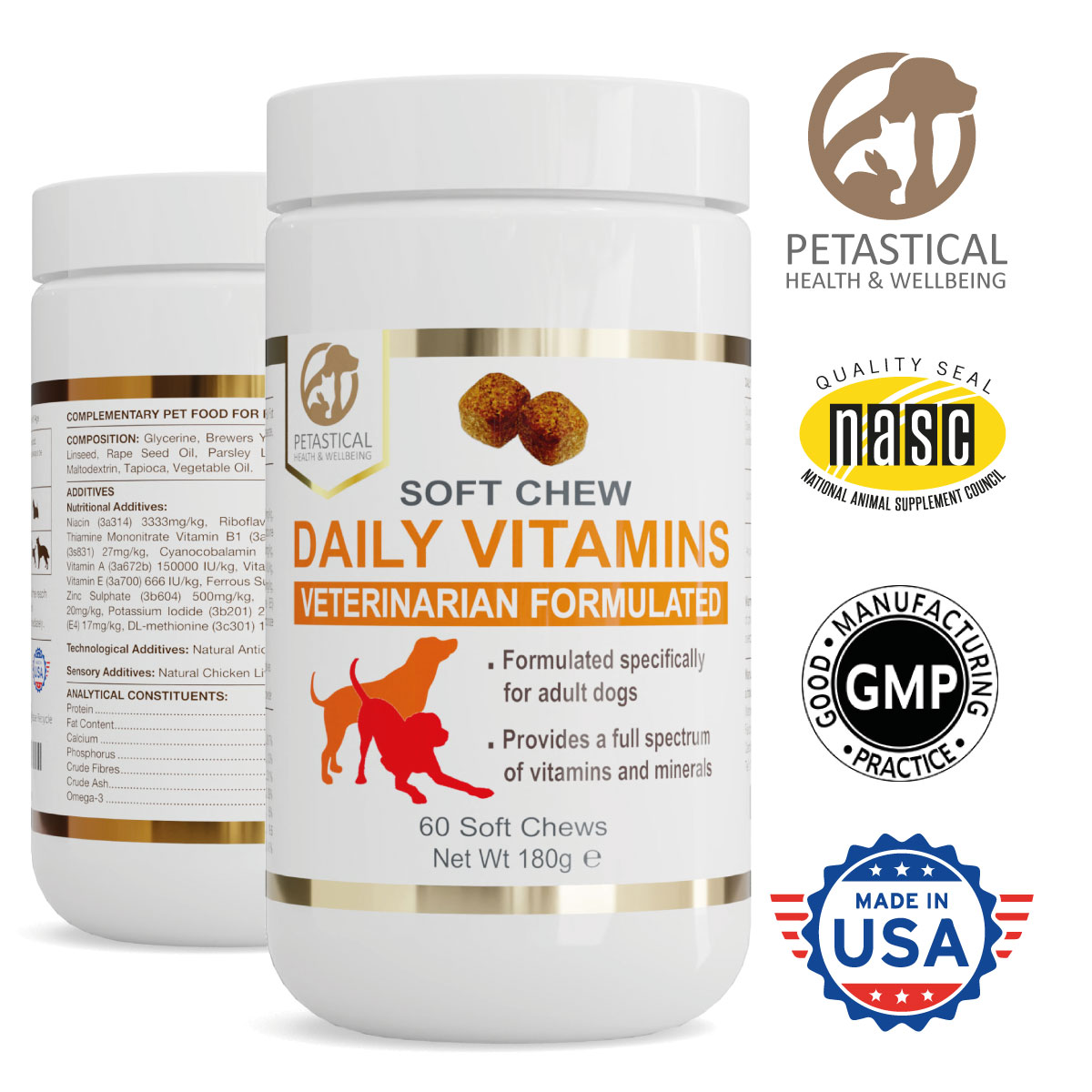 PETASTICAL QUALITY GUARANTEE
Petastical supplements are homegrown in a GMP certified facility which adhere to the strictest quality control and FDA guidelines.
100% Satisfaction Guarantee.
If you're not happy we're not happy.
If we can't make it right and you are not satisfied for any reason then we will gladly and promptly refund your purchase price on return of your product. We promise – For the Love of Pets the Petastical way!
Shop the post here:
Only £21.99 with Free Shipping
Also available from these online retailers