WEIGHT GAIN POWDER FOR DOGS
An all natural super whey protein powder supplement suitable for all breeds of dogs.
A high calorie weight gain for dogs.
Helps build muscle on dogs who need to gain weight and mass.
Suitable for all breeds and age.
Powder can be sprinkled over food.
Help your dog live more healthy days.
Shop the post here:
Only £34.99 with Free Shipping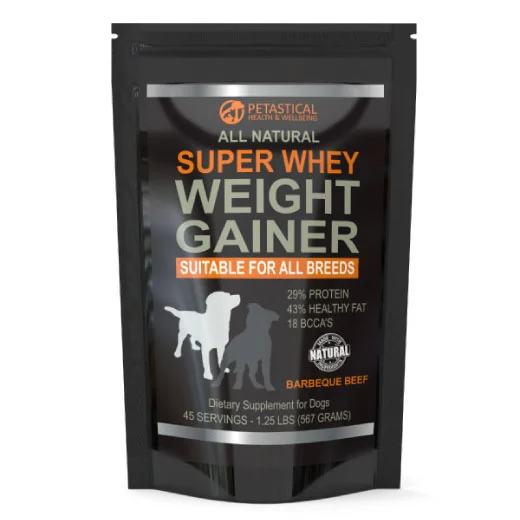 A WEIGHT GAINER FORMULATED FOR SKINNY, UNDERWEIGHT DOGS TO HELP PACK ON HEALTHY WEIGHT FAST
Are you looking to add on some healthy weight onto your underweight dog without worry of overfeeding them?
Is your dog having trouble keeping on a healthy weight?
Are they a picky eater and doesn't eat a lot, or do you just want to pack some pounds on them?
If this sounds like your dog, Petastical Super Whey Weight Gainer for Dogs is your answer. Formula Mass Weight Gainer for Dogs is designed to help add on weight to skinny underweight dogs and puppies. An easy to use, great tasting powder supplement with results that can be seen within weeks of using it!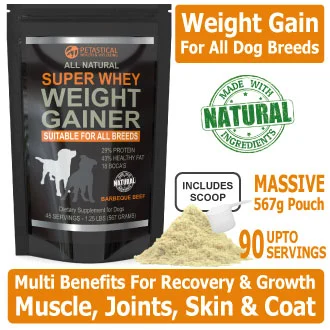 A MULTI BENEFIT PROTEIN POWDER FOR DOGS
Weight gainer, muscle builder, high amino acid and vitamin content. It can help maintain healthy joints, conditions skin and coat. Formulated with essential nutrients and proteins to help your dog gain healthy mass and bulk. Perfect for recovery and growth.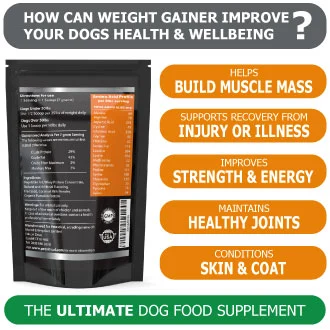 HELP YOUR DOG LIVE MORE HEALTHY DAYS
Petastical Super Whey Weight Gainer for Dogs is the ultimate canine food supplement to improve health and wellbeing. It maximizes protein intake to promote growth and development of body tissue while improving the health of your dog so they feel and look their best every day. 
Helps build muscle mass,
Supports recovery from injury or illness,
Improves strength and energy,
Maintains healthy joints,
Conditions skin and coat.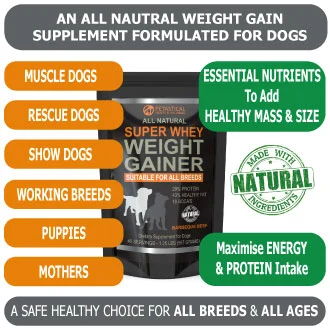 A WEIGHT GAIN POWDER THAT IS SUITABLE FOR ALL BREEDS
An all natural weight gain supplement formulated for dogs. Loaded with essential nutrients to add healthy mass and size. A supplement to maximise energy and protein intake. It is the ideal food supplement for conditioning show dogs, bully dogs, muscle dogs and all working breeds. It is recommended for picky eaters and underweight dogs. Perfect for rescue and re-homed dogs, puppies and mothers.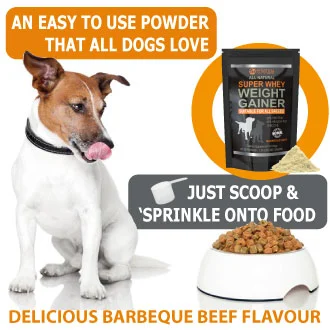 AN EASY TO USE POWDER THAT ALL DOGS LOVE
Petastical Super Whey Weight Gainer Powder is an all natural protein powder for dogs that is easy to consume. Containing upto 90 scoops of meaty barbeque beef flavour powder you won't have to worry about force feeding your dog large pills, simply sprinkle the tasty powder over wet or dry food, it's that easy!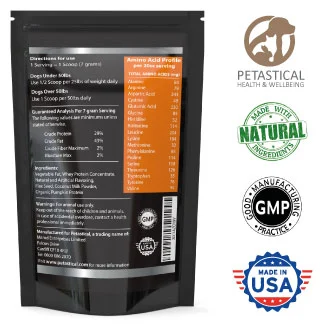 PETASTICAL QUALITY GUARANTEE
Petastical supplements are homegrown in a GMP certified facility which adhere to the strictest quality control and FDA guidelines.
100% Satisfaction Guarantee.
If you're not happy we're not happy.
If we can't make it right and you are not satisfied for any reason then we will gladly and promptly refund your purchase price on return of your product. We promise – For the Love of Pets the Petastical way!
Shop the post here:
Only £34.99 with Free Shipping